red roses for me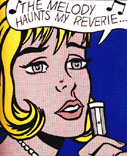 Hopkirk and Lee
I can't even remember why I bought it now, it certainly wasn't for the sleeve: completely dark with two blurred faces at the bottom, on the evidence of that Hopkirk & Lee could be the new Bauhaus. Or even the title "Beneath The Apple Tree" is hardly screaming BUY ME! I think it was just the name, Hopkirk & Lee, kinda got mixed up in my head with Randell & Hopkirk deceased & seemed like a good idea at the time. A phrase usually uttered after yet another disaster but on that particular day I must've been kind to a small animal or something as I was amply rewarded with one of the best debut singles I've ever discovered & something that still brings a warm glow several months later.
Actually I'm guessing at the debut single bit as they appear to have been one of the best kept musical secrets of recent times, no real details on the sleeve apart from the fact their names are Alex Hopkirk & Ronnie Lee & as far as I know no attention in the music papers at the time & a record label that appears to have been created for this single. I heard a rumour they were Scottish, something I could definitely understand as maybe its the Irn Bru or something
but they seem to have captured some of the tender beauty that flows from the pores of Belle & Sebastian. Here though it's mixed with an almost Walker Brothers feel especially on the first song on the EP, "Free Arthur Lee" a worthy sentiment but I'm not sure how the song relates to it. But hey when it sounds this wonderful they could have called it "Free Glasses With Four Star". The song builds & builds until you await the violin backing throughout to be joined by a huge string section but then just under two minutes in it's gone like a fleeting glimpse of something beautiful that gets you reaching for the repeat button.
The other three songs full of acoustic mellowness & fragility bring back memories of the likes of The Pale Fountains, laid back summers days spent bobbing around in rowing boats as we frequently do in Portsmouth, which I guess is kinda spooky as they in the guise of Shack went on to support Arthur Lee on tour! With the current sudden & belated acknowledgement of Michael Head from The Pale Fountains/Shack as one of the best songwriters of the last ten years that can only be a good thing.
The EP vanished almost as soon as it arrived but has since apparently been released in the US on 7" & is soon to appear again in the UK on CD with I hope more of the same to follow.