red roses for me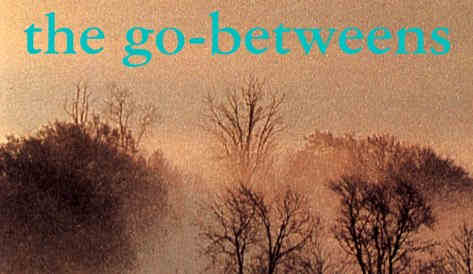 1989 to me was the year I fell in love twice. Both meant the world to me & I couldn't imagine a time without either of them not being there. One grinded to a halt just before Xmas & the other ceased to exist in January. The first was almost instant, taking a weekend for me to realise how I felt. The other took months where my feelings grew stronger & stronger until I realised the Go-Betweens were the most important band in my world.

It started off when a good friend sent me a tape of their "Tallulah" album & although I realised it had some wonderful songs on it (I'm not THAT stupid) it took one dull Sunday morning in front of the TV for me to really realise the brilliance of the Go-Betweens. Why? Well do you remember Night Network? An endless amount of pretentious people talking crap about films & videos etc. in the middle of the night you only watched if you were drunk, a raving insomniac or both. Well every so often they'd show a decent video - a real life indie band shock! So I'd record it & spend ten minutes on a Sunday fast forwarding it in the vain hope of there being something worth watching. Then that fateful day it happened....Seven glorious minutes of The Go-Betweens live in the studio, well two of them, Grant on guitar & Amanda on violin. Stunning versions of "Was There Anything I Could Do?" & "Streets Of Your Town" gorgeous harmonies & displaying the qualities of great songs in that whatever way they're played it's still wonderful.

From then on I was hooked & I've managed to find almost everything they've recorded. I just can't believe they never had the success or acclaim they deserved & a headline in an American fanzine says it all: "When Will You Earthlings Wake Up & Realise The Brilliance Of The Go-Betweens?"





Forster/McLennan should be held in the same sort of esteem as Lennon/McCartney or Goffen/King as they have the gift of writing pop songs that transcend mere lyrics & are able to capture the whole range of emotions in a three or four minute song. They understood that tunes & lyrics should have the perfect balance where one complements the other. Their songs had that rare quality where every listen etches them deeper into your heart without resorting to the catch-phrase title every other line. This could have been the reason radio practically denied their existence for the last ten years Robert & Grant may have written the songs but it was never just about them. Lindy Morrison's drums & the bass played at various times by Grant, Robert Vickers & John Willsteed, have always held the songs together without ever swamping them & blended to such a degree you hardly notice them at times. Over the last two albums they were joined by Amanda Brown on violin, backing vocals & several other instruments which added even more texture to the sound.

Since 1978 they released so many fine songs it'd take a whole fanzine to go through them all & if you still need to be convinced of their beauty get their compilation album which should still out there but here are a few reasons why the Go-Betweens are so often stated by bands in interviews when they're asked the "bands you admire?" question.





1978 - "Lee Remick"
How many bands can say their career started with a classic pop single? Full of "baa baa baa's" & heartfelt lyrics of love towards the actress. So many people have tried this sort of thing, few with such style. Any song that contains lyrics like "She was in The Omen with Gregory Peck, she got killed but what the heck" is ok in my book.

1980 - "Serenade Sound"
After the Postcard single they returned to Australia & recorded a demo of ten songs in Brisbane. These later appeared on the "import" album "Very Quick On The Eye" & contains several songs that could have been singles. Some lovely chiming guitar dances around the bass in a love song that captures a feeling of frustration. "I can't say those things you want to hear, I don't know the words" instead of resorting to I lover you's.





In 1982 Rough Trade finally released their "Send Me A Lullaby" album & "Hammer The Hammer" single. These were followed up in 83 with two songs that showed the Go-Betweens had the gift of writing songs of timeless quality. These were:

Cattle & Cane
Often when a song is called atmospheric it means long, dull & lifeless. For once it means something completely different, as with most of their early songs the bass is used like a rhythm
guitar & the lyrics follow it while Robert's guitar weaves itself around the tune & a feeling of space flows throughout it all.

Man O Sand To Girl O Sea
"I want you back" pleads Robert Forster as the guitar & bass chase each other through the song to create a mood of anguish that seems real instead of faked so it'll look cool in the video.





After this single the band ended up on Sire records & although this single bore their first consistently classic album "Spring Hill Fair" & two wonderful singles from it they still had little success. Mind you Sire haven't been a great help to bands in the UK with the Wild Swans & James making great records for them & getting nowhere fast. One of the singles from this period was:

Bachelor Kisses
A gentle soothing experience showing that smooth doesn't have to mean bland, this time with Grant's lyrics pleading with someone to be faithful & giving out hope.





From Sire it was on to Beggars Banquet, home of all your favourite goth bands, & they remained there to the end releasing three more albums "Liberty Belle & The Black Diamond Express", "Tallulah" & "16 Lovers Lane" that everyone should own. It's almost impossible to pick highlights from these records, just pick songs from each.

1986 - Spring Rain
Not exactly an uncommon subject but here it's as fresh as the air after a down pour. Starts with a burst of wonderful guitar that weaves it's way throughout & gets even better with the chorus' duet between Grant & Robert.

1987 - Right Here
How this wasn't a hit is beyond me, the drums & violin lead you into a glorious tune & another example of how to write a love song & avoid clichés. I'd call this song uplifting but then you'd think I was on about Simple Minds.

1987 - Bye Bye Pride
My favourite Go-Betweens song, to me it seems perfect. It's hard to dissect something you adore so much so I'll just say it has some of the best lyrics ever & leave it like that. On the 12" there's another version as well. Same chorus but verses about fishing!





1988 - Streets Of Your Town
The hit that never was (in this country: voted second best single of the year in a Swedish music mag) even the half hearted attempts at hype failed to convince the British public. A gentle summer stroll with some lovely harmonies, a song that should inspire you for the rest of the week.

1988 - I'm All right
A perfect example of the 16 Lovers Lane album, almost understated acoustic guitars, lyrics strong enough to stand up on their own without being buried under production & written by two believers in love to stunning effect.